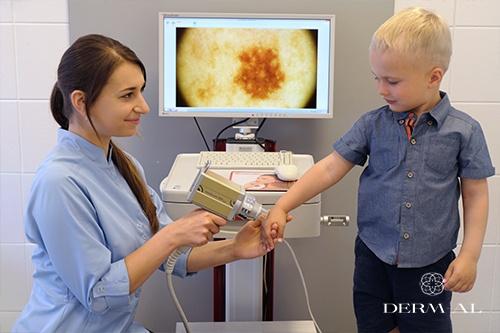 The "Derm-Al" Dermatology and Allergy Centre has been located in the Górny Sopot district since 1998. Its previous long-time address was Skarpowa Street. The "Derm-Al" Dermatology and Allergy centre, created by Barbara Sarankiewicz-Konopka, MD PhD, dermatology and venerology specialist , could develop thanks to a growing number of loyal patients. Our success is based on patient satisfaction achieved through the hard work of our dedicated and experienced personnel. Our medical doctors are our major asset. They have all been with us for many years. They are clinical practitioners and some are university teachers. They continuously broaden their knowledge by participating in training courses and seminars in Poland and internationally.
We offer comprehensive services. We treat, diagnose and operate in three closely related domains: dermatology, allergology and laryngology. Many skin conditions as well as upper and lower respiratory tract ailments are associated with allergy, which has come to be referred to as a disease of civilisation. This is why we have at the Derm-Al Centre not only dermatologists and laryngologists but also doctors with dual specialties: dermatologist-allergist, laryngologist-allergist, paediatrician-allergist, internist-allergist, and they all closely cooperate with one another. We perform skin prick and patch allergy tests (food, inhalation or contact allergies), and we offer allergen immunotherapy.
Dermatology also covers a number of ailments associated with skin lesions that qualify for surgical removal, such as birthmarks, warts, fibromas, capillaries. At Derm-Al, doctors apply different surgical methods: laser, electrocoagulation, radiosurgery, cryotherapy or traditional surgery, depending on the problem.
In order to meet the needs of our patients, we have crated a podology unit, focusing on the treatment of foot and nail conditions(calluses, ingrown nails, mycosis). We have podology specialists who use professional equipment and latest treatment methods.
In 2010, a sister company of the Derm-Al Centre was founded. It is called Derm-Al Beauty and offers a broad range of aesthetic medicine services. It offers professional counseling and treatment based on the latest trends in order to improve the health and appearance of the skin and hair (removal of expression lines, mesotherapy, hyaluronic acid, platelet-rich plasma, thread lift), It also performs certain plastic surgery procedures such as eyelid and ear correction or hair transplant.
Taking care of every detail of our services, we strive to provide our patients with professional treatment in comfortable conditions and friendly atmosphere. The Derm-Al Centre has modern, air-conditioned interiors and optimally equipped surgeries with disabled access. The devices we use are supplied by world's top medical equipment manufacturers, such as, for example: Vexia Gold video dermatoscope from Foto Finder with birthmark analysing software - a platform for complex skin diagnosis, birthmark tracking and monitoring of the progress of medical treatment, Fire Xel CO2 medical laser for surgical and fraction procedures (skin lesion, post-acne, dark spot and stretch mark removal, and rejuvenation) or VariLite™ medical laser manufactured in the USA, for removal of dilated blood vessels on the face, décolleté, thighs and cruses, Fox medical laser from A.R.C manufactured in Germany, for fungal nail treatment, Acusect Ellman radiosurgery device made in the USA, for removal of regular and seborrheic warts, molluscum contagiosum, actinic keratosis and firbromas as well as for laryngological treatment, including snoring treatment, Metrum Cryoflex cryotherapy device for freezing of viral warts and mucuous membranes, removal of actinic keratosis focal points, molluscum contagiosum and certain forms of basal-cell carcinoma, UVB and UVA irradiation platform for the treatment of psoriasis, vitiligo, spot baldness and certain allergy-related diseases, like atopic dermatitis.
All our patients matter for us equally. We approach every patient individually and always with kindness. The group of our loyal and satisfied customers is constantly growing and we already treat the third generation of patients. We receive a lot of positive feedback, which can be viewed on the Internet profiles of our physicians and on our Facebook. We are grateful for all feedback! For us, the personnel of Derm-Al, it is the reason for great joy and satisfaction, but it also motivates us to keep up the good work.