Advanced pedicure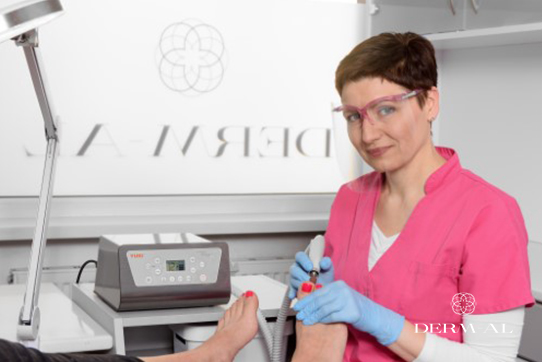 Description of the treatment

The advanced podiatric pedicure includes foot soaking and peeling, and foot massage and applying traditional or hybrid nail polish.

Conditions such as fungi, warts or inflammations are not a contraindication for pedicure in our surgery.

The treatment is performed by the podiatrist using professional devices. During the treatment, podologist diagnoses the problems, explains their causes, presents the possibilities of eliminating them, instructs the patient on foot care and the use of cosmetics or basic pharmaceuticals, and, if needed, prescribes proper tests or procedures, or recommends an appointment with a specialist physician. Regular pedicure helps keep the feet in a good condition and quickly trace foot pathologies, which makes it the most effective prophylactic and foot-care measure.

How does the treatment work

The treatment is performed with a professional drill machine and drill bits. The tools are either sterile or disposable. The podiatrist first disinfects the patient's feet and then examines them and interviews the patient. The purpose of the interview is to find out about the patient's expectations and their problems that require podiatric treatment. The patient is also asked about any disorders they might have (diabetes, chronic venous insufficiency, etc.) and the medications they take. This knowledge is necessary for the safety and effectiveness of the treatment. Next, the treatment plan is discussed with the patient. All information is recorded in the patient's podiatric file.

If there are no contraindications, advanced podiatric pedicure begins with soaking the feet in water with appropriate preparation. Then, the feet are dried and the next step is to shorten the toenails, process the toenail plate and shape the toenails, and, if need be, reduce the thickness of the nail plate, remove cuticles, cleanse the toenail folds and even the edges. Next, the soles are treated. Any horny skin is removed from the toes as well as calluses from the forefeet, and the heels and sides of the soles are smoothed. Next, peeling is done on the feet to remove anything that remains there after drilling as well as to remove dry epidermis from areas that are too delicate for drilling. Also, peeling massage stimulates circulation and relaxes the feet. In the end, the feet are disinfected again and the podiatrist checks the final effect of the treatment and massages appropriate cosmetic preparation.

If the patient wishes and if there are no contraindications, traditional or hybrid polish may be applied on the toenails.

Duration of the treatment:

The maximum duration of the treatment is 1.5 hour. It is recommended to repeat the treatment every 4 - 8 weeks.